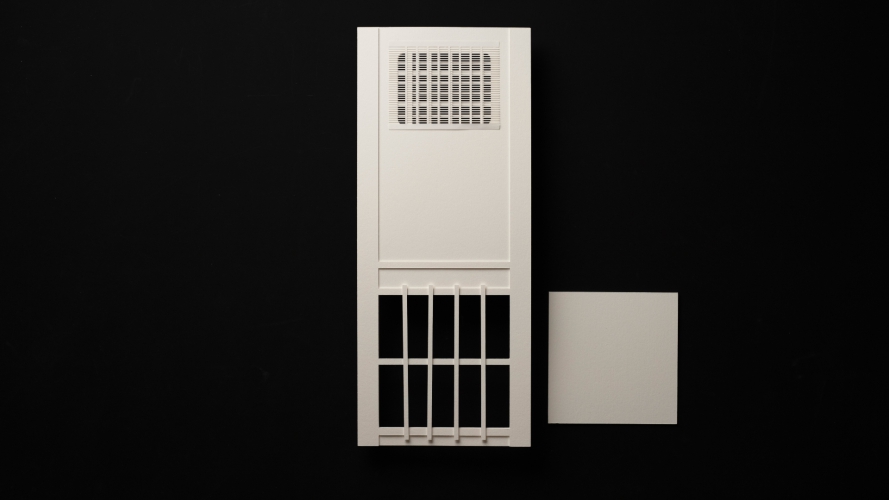 017
11 Shitajimado
The shitajimado (exposed lath window) positioned near the ceiling beside the decorative alcove (tokonoma) is another unique feature of this teahouse, and it is thought to have provided a view up to a large pine tree in the garden. In addition to serving the functional purpose of exhausting the warm air hanging in the upper part of the room, it was probably also designed as a counterbalance to the ceiling and adjacent windows from an aesthetic point of view.oo post. The threshold and lintel have a groove for a sliding paper screen, which is pulled towards the kitchen end and opens only about half way.
12 Renjimado and Kendonbusuma
The renjimado (slatted window) whose bottom edge touches the floor and the kendonbusuma (kendon-style paper panel; a kendon is a type of door that is lifted into a grooved frame and dropped into place) used in lieu of a paper screen in the side wall of the alcove are original features unique to the Yosuitei. Like the other paper panels, these windows were probably made to provide views to the large pond of the Yosuien, which was the garden where the teahouse originally stood. The idea to incorporate a kendon into the rustic-style teahouse can be seen as another sign of Enshu's creativity, as such doors were usually used on the shelves beside the decorative alcoves in the drawing rooms of upper-class mansions. It is a precious specimen that cannot be found in any other teahouse.
About the Yosuitei
Japanese teahouses (chashitsu) are unique buildings with small interiors and many types of windows. The Yosuitei is a thatched hut-style teahouse from the Kanei era (1624–1644) of the early Edo period. It was commissioned by Toshitsune Maeda, the second lord of the Kaga Domain, and built alongside a waiting shelter and a reception hall with a dais at the residence of Kakujo Goto, a sword engraver and Maeda clan liege based in Kyo (present-day Kyoto). Designed by Enshu Kobori, the multiwindowed teahouse is also referred to as the Jusansoseki (lit. "Thirteen-Window Tearoom") based on the fact that it has thirteen windows, which is the most of any extant teahouse. This project aims to extract the subtle, rich behaviors of the Yosuitei's thirteen windows by studying the sounds and movements that they make when opened and closed.
11 床脇の下地窓
床脇の天井近くの高い位置にある下地窓は、他に類例の見られない、この茶室独自の創意で、庭の松の巨木を見上げるためのものだったと考えられている。また上部に滞留する熱気を排出・換気する機能にくわえ、上下左右の窓や天井とのバランスを考えたデザイン的な目的があった事も考えられる。
12 連子窓と倹飩襖
連子窓の下辺が畳に接していること、床脇壁の窓の建具が障子ではなく倹飩(けんどん)(枠の上下に溝をつけて上げ落としする扉)の襖であることは擁翠亭独自の創意で、元来、擁翠園の大きな池のほとりに建てられていたので、他の戸襖と同じ様に水面を眺める目的で設定されていると考えられている。倹飩(けんどん)の戸は本来、書院床脇の物入の戸などに使われるものであるが、そうした書院の様式を侘びの茶室に用いたことは遠州の面目躍如ともいえるものである。この戸も他の茶室には一切見られない貴重な遺構である。
擁翠亭について
日本の茶室は狭い空間に多くの種類の窓を備えた特殊な建築物である。擁翠亭は、江戸時代前期の寛永年間(一六二四~一六四四)に、加賀藩二代藩主前田利常が、京の装剣金工師で前田家の家臣であった後藤覚乗の屋敷に、上段付きの書院や堂腰掛とともに建てた草庵茶室。設計は小堀遠州。十三の窓を持つ多窓茶室であったことから、別名を「十三窓席」と言い現存する茶室で最も窓の多い茶室として知られている。本プロジェクトでは、擁翠亭の窓の開閉する音と動きを観察し、十三窓の繊細で豊かな振る舞いを抽出することを目的としている。
Year:
2021-22
Credit:
Research: Yoh Komiyama
Video: Tomohiro Okazaki
Sound Analysis: INVISI
Production: Window Research Institute
Special Assistance: Yosuitei Preservation Society
Translation: Gen Machida